2017 Roundup: The Top 5 Red Wing Amsterdam Styles, Blogposts & Photos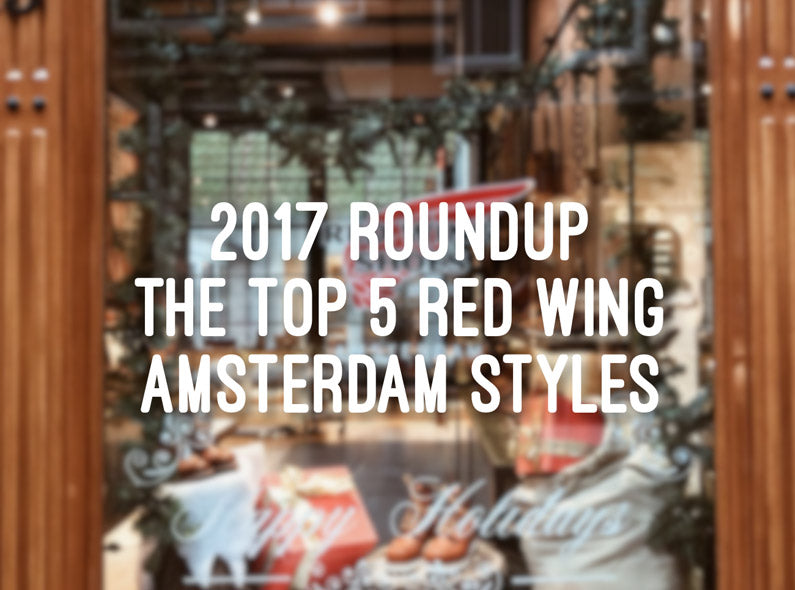 Just a week ago,
the Red Wing Shoe Store Amsterdam
reached 60k followers on
Instagram
. This just shows how crazy 2017 was. The year was filled with numerous exciting releases, events and milestones. We are especially amazed by how many interesting and inspiring people we met. From all over the world, a shared passion for the quality and heritage of Red Wing Shoes brought you to the Amsterdam store. We talked Red Wing, denim and music and discussed business and international politics! While most of you were kept up to date by following us on our social media accounts, we wanted to share a brief roundup of the past year. For those who missed out or just need a quick recap! Today we will be sharing with you the year's most popular Red Wing styles. Tomorrow will be all about our most-read blogposts. Finally, the last day of the year, we will reveal to you which Instagram posts were the most loved. But first, let's talk
Red Wing boots
!
1. The Red Wing Shoes 8111 Iron Ranger in Amber Harness
Unexpected? Not really! Ever since it was first produced for the mineworkers of the Mesabi Range in Minnesota, it has been the go-to boot for everyone who needed footwear that they could depend on. The Amber Harness leather might be one of our most classic leathers and it therefore does not come as a surprise that you folks digged it the most.
2. The Red Wing Shoes 875 Moc Toe in Oro-Legacy
Another classic. The
Red Wing Moc Toe
has been around for quite some time. It has been on the feet of people from all backgrounds. Even some of Hollywood's most respected actors and the industry's hottest musicians are known to be passionate about the style, especially the
875 featuring the Oro-Legacy leather
.
3. The Red Wing Shoes 8085 Iron Ranger in Copper Rough & Tough
The
Iron Ranger
truly is an 'all-time favourite' and as classic as it is durable and practical. The
Red Wing Shoes 8085 Iron Ranger
is different from the
8111
style in that it features the all-new Vibram® Mini-Lug sole. It provides you with excellent grip on different surfaces. Together with an ever-popular colourway (a.k.a. Copper Rough & Tough!), it comes as no surprise that this style hit the top 5.
4. The Red Wing Shoes 3343 Blacksmith in Copper Rough & Tough
2017 was all about Copper Rough & Tough, that is for sure. Being the Iron Ranger's younger brother, the
Blacksmith
is of the same high durability and practicality. Its design has a bit more simplicity to it, something that a lot of people were into last year. With the grippy Vibram® Mini-Lug sole it is ready for your modern-day adventures.
5. The Red Wing Shoe Store Limited Edition 9874 Irish Setter Moc Toe in Black Klondike
This one was kind of a surprise. It was released half-way through October but decided to make the list anyways. Originally exclusive to Japan, it made its way to
Red Wing Shoe Stores
across Europe and gained celebrity status in no-time. The gorgeous double-tanned Black Klondike and historic details helped it overtake popular styles like the
1907 Moc Toe
in our 2017 roundup. Did you get yourself any of these boots? Or did you happen to do things differently and get another style like the Pecos or Chukkas? Please let us know on our Instagram or Facebook pages! Tomorrow we will share with you the five most-read blogposts and the day after tomorrow, we will blow-out 2017 and share with you our most loved Instagram photos, so stay tuned!