OUT NOW! Limited Edition 'AMSTERDAM' Moc Toe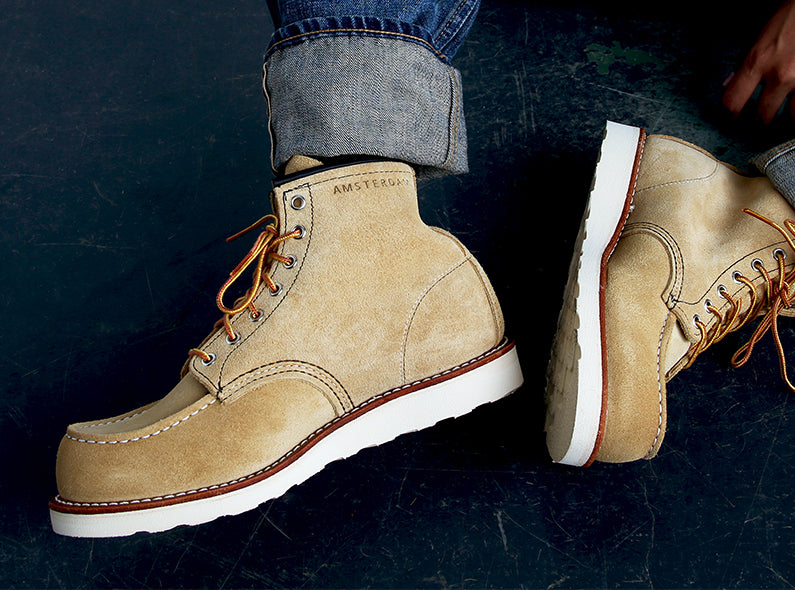 The Red Wing Shoe Store Amsterdam celebrates its 10th anniversary with a limited edition Moc Toe 'AMSTERDAM' boot. This special anniversary Red Wing boot is made in the USA and limited to 180 pairs. This exclusive boot has AMSTERDAM stamped on the inside of the right foot and will be released on July 22, marking the exact date of the opening of the Red Wing Amsterdam Shoe Store in 2010.
The Red Wing Amsterdam limited edition Moc Toe is made of the iconic 'Abilene' leather, manufactured in the Red Wing tannery in Minnesota. It is often referred to as 'rough out' as it is the rough side of the leather hide. "Abilene" is one of the iconic leathers of Red Wing, using the leather inside out creates many benefits. One being the "Rough out "creates a better water proof barrier as this side has the densest grain making it harder for water to penetrate.
Another advantage of "Abilene" leather is breathability, of all the Red Wing leathers "Abilene" is the most breathable as it does not contain wax or oil meaning it will keep your feet cool all year round. Through careful P.H Control of this 100% chrome tanned leather "Abilene" does not require any maintenance. The leather will not dry out and if kept inside it can remain supple for 100 years!
When the Red Wing Shoe Store Amsterdam opened its door to the public in 2010, very few people in the Netherlands had heard of the Red Wing brand, founded in 1905.
"Red Wing Shoes to me looked timeless, yet from another world" says Red Wing Shoes Amsterdam co-owner Mitch de Vries about the first moment he came across the Red Wing Shoe brand. "Where do you find a brand like this these days? The Red Wing Shoe Company is still family-owned, the products are still made in the USA and even the leather is tanned in a family-owned tannery in Red Wing, Minnesota. To me, Red Wing boots are the most durable, sustainable boots I know and I am proud to be part of their quality community".
The Red Wing Amsterdam boot is exclusively available in-store and online at the Red Wing Shoe Store Amsterdam. The boots come in a special box which will include a sticker pack featuring the 10th-anniversary artwork. The Red Wing Shoes Amsterdam limited edition retails for €369,95.