Socks matter! An answer to the question 'Why are Red Wing boots not lined?'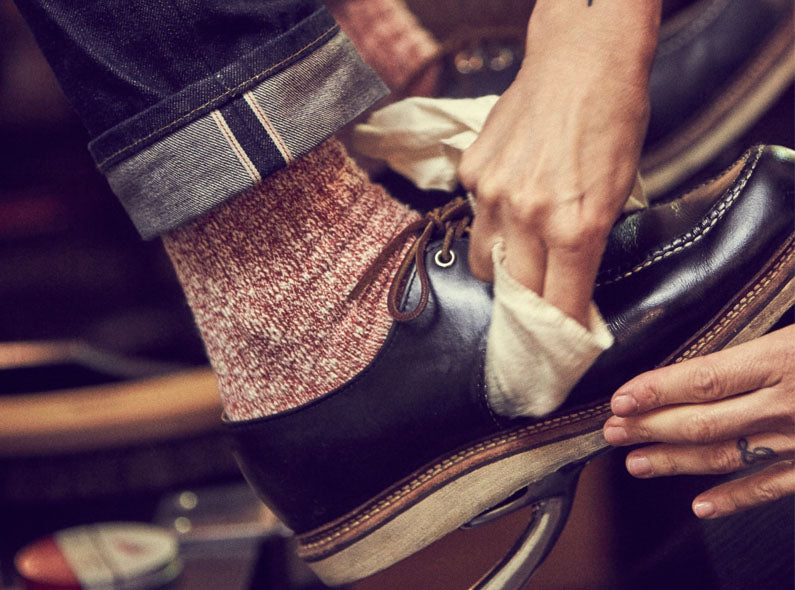 November has officially begun. Gloves, shawls and hats are making their way onto the streets. We are taught to keep our hands and head warm because it is through these parts of your body that you lose the most warmth. There is one question, however, that we keep getting asked at the
Red Wing Shoe Store Amsterdam
. Ever since our first winter in the Reestraat people wonder: "Why are
Red Wing boots
not lined?". People are afraid of cold feet. This fear of the cold misleads many people into compromising on durability, but also on versatility. First, let's find out why
Red Wing boots
are unlined. Then, let's discuss why this does not make them any less winter-proof. Unlined shoes mean less wear and tear. It is as simple as that. The fabric such as wool or fur in lined boots tends to easily break down over time, making your boots less durable. Since
Red Wing Shoes
is a brand that stands for quality and durability, our shoes are designed to be as strong as possible. We deliberately minimise the use of any weak fabrics. In addition to making your boots less durable, lining boots makes them less versatile. You invest in a pair of boots to live in, day in, day out. Not to wear them for only one season and leave them in the dark for the other 3/4 of the year. Now, how about wearing
Red Wing boots
in winter then? Do we just accept cold feet? Of course, not! There is a simple, effective and comfortable trick to making
Red Wing boots
the best-ever winter boots possible. It is all in the socks. It is not without a reason that Red Wing has a pretty extensive collection of
high quality socks
. Wearing a pair of proper
socks
is an easy way of making our boots sub-zero proof. You can also switch between different socks, making them ultra-warm or a little bit on cooler. They make the break-in period of your boots easier too. From a mild October to an arctic February… Red Wing shoes and
socks
should be your number one choice this winter. Choosing the right pair of
socks
may seem hard. There is a lot of choice in material (not to mention all the different colours!) and to make finding the right socks easier we have compiled a short list. All the socks that we mention are available in the Red Wing Shoe Store Amsterdam and in our online store. On mild days, go for a sock that is made of lighter cotton:
Red Wing Classic Rib socks
and
the new Cotton Ragg socks
are ideal for days like these where you need some protection from the cold. On colder, active days where you need some more protection, go for a sock that contains a blend of strong acrylic and warm wool:
Red Wing Deep Toe Cap socks
are ideal for days like these offering strength and warmth. On even more colder days where you are outside a lot, go for a sock that is made of warm, yet moisture wicking Merino wool:
Red Wing Merino Hiker socks
should be your go to on adventurous winter days. In our opinion the most comfortable socks ever made and also suitable as a house shoe (make sure your girlfriend doesn't steal them)! When you are travelling north of the Arctic circle or are just in for some serious cosiness:
Red Wing Artic socks
are simply the best option for you because they are being roomy, comfy and amazingly toasty. Now you know why we deliberately invest in socks rather than lining.
Socks matter
! Socks are amazing and useful. Socks are the solution to the struggle of finding durable winter boots. Enjoy Red Wing quality and durability all seasons of the year by knowing the right socks to wear on what kind of days. We find that
Red Wing boots
are really some of the best winter boots out there when paired with an as
high-quality and as durable pair of socks
.