Red Wing 2017 Holiday Gift Guide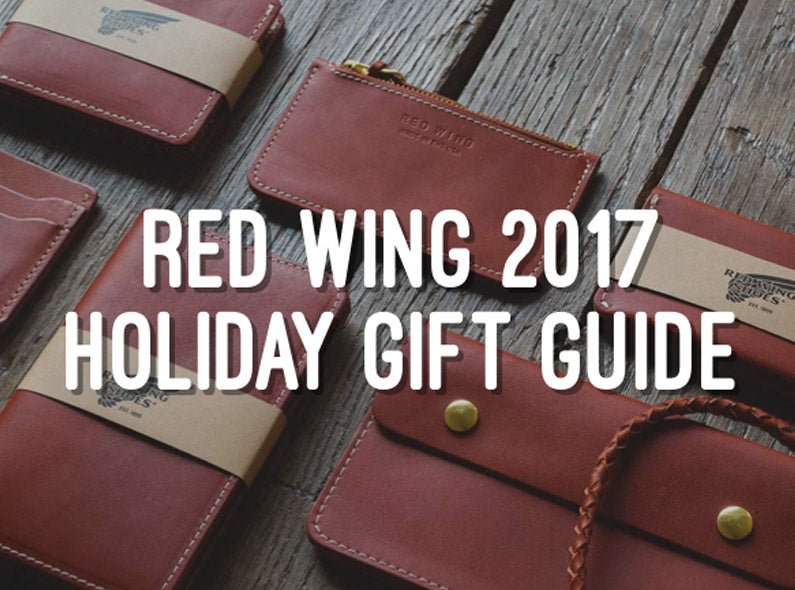 Christmas is almost here and we are beyond excited! Everyone's favourite Christmas tunes are already on repeat in our
Red Wing Shoe Store Amsterdam
. It is the time to be jolly and openly wear ugly Christmas sweaters with lights and moving snowmen wearing mini ugly Christmas sweater, but above all, it is the time show our friends and family how much we love them. By giving back, we can show them our gratitude. That is the reason why we love giving people gifts! It is always hard to find the right one, however. You want your gift to be special and beautiful but also useful. What is the point of giving something that he or she will not be able to use? If you are looking for a meaningful, timeless gift that can be put to actual use, look no further. We have come up with the ultimate guide to help you find the perfect gift.
Gifts under €50
Red Wing Socks

(click to shop)
Need we say more? Socks matter, especially during Christmas! They keep your feet warm and comfy all throughout the season. We have got lot's (and with lot's we mean LOT'S) of different socks. Cotton, Wool, Merino or a blend of all three, you name it. Toe and heel reinforcement? Got it. Extra cushioning? Got it. You probably get our point by know. Our socks are toasty, durable and amazing.
Red Wing Zippo
(click to shop)
Ideal for lighting your annual Christmas bonfire, the Red Wing Zippo is an awesome gift. Just like all other Red Wing products, it is made in the USA. 100% stainless steel was during the production of the lighter. It is also a fun gift for a Red Wing collector. Make sure you are careful around the Christmas tree though; you do not want it to catch fire!
Shoe care essentials
(click to shop)
We have a lot of shoe care items that make great gifts. It is very important to keep you Red Wing shoes properly conditioned. Create a personalised giftset with a brand-new polish brush, an application brush, some boot care cloths, a bottle of leather cleaner and a tin of leather cream, for example. Maybe even add some socks! Feel free to ask us for advice on what products to get.
Gifts between €50 and €100
Red Wing Leather Belt
(click to shop)
A Red Wing belt will last you a lifetime. Even more so, anyone with one of our belts would tell you they still enjoy wearing long after they first put it on. Our belts never go out of style and they are some of the world's most durable. They are all handmade in the USA from super thick bull hide and brass hardware that is virtually is indestructible.
Folded Card Holder
(click to shop)
The Red Wing Small Leather Goods collection has only been around for a few months but is already a favourite to a lot of people. Every single item is meticulously crafted and unimaginably durable. They age beautifully and take on a unique patina that over time will reflect the way you live.
Red Wing Gloves
(click to shop)
Our gloves were destined to be on this list. They are some of the most comfortable, well-made gloves out there. We wear them all the time and so should you. They are made of luxurious deerskin and are available both unlined and lined with warm Thinsulate fabric. These gloves are the ultimate Christmas gift if you are expecting a cold and harsh winter!
Gifts up to €200
Classic Bifold Wallet
(click to shop)
This wallet is the bigger brother of the Folded Card Holder. It is as meticulously crafted and durable, only bigger. With six card slots and place for your paper bills, it is large enough to fit all your daily essential. Especially the vegetable tanned version of the wallet will age beautifully. This specific wallet is an everyday must that he or she will carry around for years to come.
Timex x Red Wing Leathers Waterbury Watch
(click to shop)
These watches come in three sizes and are beautiful and useful at the same time: the ideal Christmas gift. The watches were designed by Timex and use Red Wing leather in the straps. They were first released in Japan, but are also available at the Red Wing Shoe Store Amsterdam. Make sure he or she will never be late again by giving this gorgeous watch this Christmas.
Passport Wallet
(click to shop)
Yes, another Red Wing small leather good that we had to include. This wallet is fits a passport together with all your essential travel and business cards. It is ideal for anyone who travels a lot and wants to be organised while doing so. A personal favourite of ours. Does your boyfriend, sister or best friend always lose his or her travel documents? Get him or her a Passport Wallet this Christmas and make sure it never happens again.