OUT NOW: Limited Edition Red Wing Shoes 2904 Lineman in Oro-iginal!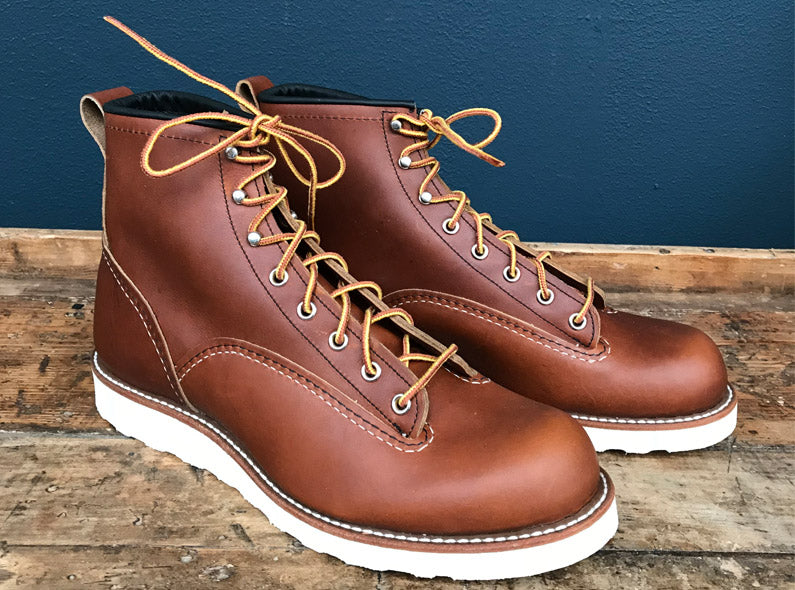 While our #RWSAwomen Instagram-contest is receiving a lot of attention from women across the world, we wanted to give you guys a treat as well. Today marks the release of yet another Red Wing Shoe Store Limited Edition! We are talking about the Red Wing Shoes 2904 Lineman in Oro-iginal. The Lineman-collection is usually only available in Japan, so we are super excited to be able it to offer it to you.
As you can see from the photos, it is quite different from the Lineman styles that we offered in the past. However, just like every other Lineman style, it has the features the same unique historic characteristics such as the "Wide panel" design. The "Wide panel" lace-to-toe design is unique to the Lineman. It looks awesome, but serves an important purpose most of all. During the early 20th century, one out of three line workers were said to be taken accidentally while on duty. Taking safety measures was thus very important. The design allowed for tighter adjustment of the boots enabling the workers to keep their feet right in place. It was first applied on Red Wing Lineman boots in the early 1940's!
The Red Wing Shoes 2904 Lineman uses the classic oil-tanned Oro-iginal leather, one of Red Wing's most classic leather types. The Goodyear Welted boots come with a traction tred sole that you may recognise from styles such as the 877 and 875 Moc Toe's. We absolutely love how the white soles and cognac leather give the boots such a contemporary look. The 2904 Lineman is a limited edition and therefore we only have a limited number of boots available. So if you want to get yourself a pair, be quick! You can drop by the Red Wing Shoe Store Amsterdam in the Reestraat, Amsterdam, or visit our webshop. And if you haven't already, definitely tell your girlfriend, wife, sister or awesome neighbour wearing Red Wing Women boots to post her outfit on Instagram using the #RWSAwomen!