Presenting the all-new Sawmill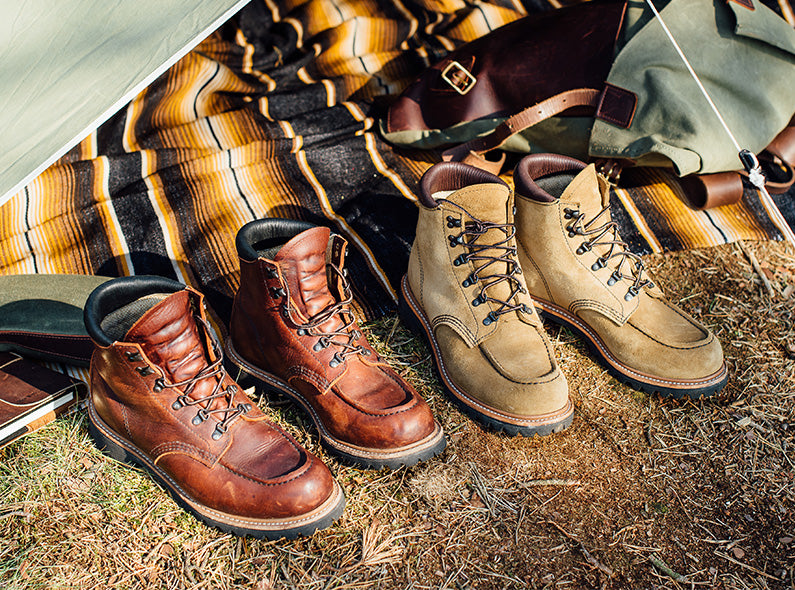 It's that time of the year again where we can present the new Red Wing Heritage collection for Fall Winter 2019. We have some very interesting new Red Wing shoes we want to present you. The first new style we are going to highlight is the all-new Sawmill in 2926 Olive Mohave and 2927 Briar Oil Slick. The Sawmill is a Goodyear welted boot with a storm welt this is designed to protect the boots from the elements such as cold and harsh conditions. The Sawmill also includes a lining that will draw moisture away from the feet. There is a felted wool covered footbed to further protect your feet from the cold. The collar of the boot is made from a premium deerskin as used for the Red Wing gloves. The outsole has been manufactured from a special compound that performs well in cold environments and offers excellent cushioning. SAWMILL #2926 OLIVE MOHAVE LEATHER The Olive Mohave leather is a true waterproof leather. It is US military grade spec leather originally designed for the US marines.
D-RINGS
This is the first time in the history of the Red Wing Heritage collection that we are using D-rings in a product. This allows the consumer to quickly un-lace the boots for ease of exit.
SPEED HOOK
This is also the first time Red Wing Heritage is using a riveted hook. This is like speed hooks on steroids because it brings the hook out closer to the edge of the eye row allows faster lacing.
CAMBRELLE LINING
The Cambrelle lining in the Red Wing Heritage Sawmill offers comfort and moisture management through Bi-component fibers, for a reliable, effective long lasting lining that goes the extra mile.
PROTECTING THE FOOT CLIMATE
The bi-component fibers in Cambrelle mean the lining constantly adapts to the motion of the foot while providing the highest level of abrasion resistance. This in turn produces countless microscopic air pockets that allow air to circulate and add to the cushioning effect to create a constant micro climate around the foot.
STAYING COOL
The lining draws moisture away from the foot and releases it back into the environment when the footwear is removed. Cambrelle is so efficient at moisture management that it is capable of absorbing three and half times its own weight. Furthermore Cambrelle protects your feet against bacteria that can cause mildew, rot and odor.